You are here:  

Boise Real Estate Market Stats Feb. 2010
Details

Category: Market Updates Market Updates

Published: 08 March 2010

08 March 2010

Hits: 13030

13030
Boise Idaho Real Estate Market Stats Feb. 2010
Let's take a glance at Boise Home Sales for the past 3 years:
Total number of single-family homes sold in Boise Idaho in Jan. and Feb. in the following years: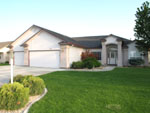 2008: 449 Homes SOLD Average Sales Price = $236,941
2009: 287 Homes SOLD (Down 36%) Average Sales Price = $196,918 (Down 16.9%)
2010: 335 Homes SOLD (Up 17%) Average Sales Price = $180,465 (Down 8.3%)
The number of sales is great for 2010, however we are looking for some stabilization for Boise Home Prices. This information is retrieved from the Intermountain MLS and is deemed reliable but not guaranteed. Contact Don Wixom for specific market analysis of your Idaho real estate.
It's a fabulous time to buy homes for sale in Boise Idaho! With low prices, low interest rates, tax incentives and great selection, you can't go wrong! NOW is the time to buy Boise Homes!
Always looking out for your next move...(sm) on Boise Idaho Real Estate!