You are here:  

Garrity Interchange Construction in Nampa Idaho
Details

Category: Market Updates Market Updates

Published: 30 December 2009

30 December 2009

Hits: 12623

12623
Construction at the Garrity Interchange
will begin the first week of January, 2010 and finish in June, 2011. Construction will affect traffic on Garrity Blvd./Idaho Center Blvd. and I-84.
The Idaho Transportation Dept. (ITD) invites you to attend an open house meeting regarding the roadway improvements.
The meeting will focus on traffic and noise impacts, planned closures and detour routes.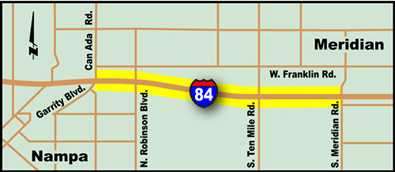 Wednesday, Jan. 6, 2010
4 p.m. - 7 p.m.
Hampton Inn
5750 E Franklin Rd.
Nampa, ID
This blog post is for informational purposes only and does not obligate you to buy Idaho Real Estate or travel on Idaho Highways. Feel free to consult your attorney, Nampa RE/MAX Realtor or taxi driver for more information. Buy Idaho Real Estate!
The I-84, Garrity Interchange to Meridian Interchange project involves designing and constructing a third lane to eastbound and westbound I-84 between the Garrity Boulevard and Meridian Road Interchanges. ITD anticipates that the additional lanes will be constructed within the existing median.
Gaining the environmental clearance needed for construction—The National Environmental Policy Act requires ITD to examine all impacts to the environment resulting from the proposed project. ITD must prepare a document that identifies these impacts to the surrounding area before the project is approved.
Designing capacity improvements —These early technical studies will identify design options before advancing the project into more detailed final design.
Constructing improvements—Construction can begin once environmental clearance and the design are completed.
When completed, this project will reduce congestion, add capacity and improve the safety of I-84 between the Garrity Interchange and the Meridian Interchange.

See the ITD Website for more details: http://itd.idaho.gov/Projects/D3/I84GarrityInterchangeToMeridianInterchangeProject/default.asp