You are here:  

Distressed Sales Continue to Slide
Details

Written by Don Wixom

Don Wixom

Category: Uncategorised Uncategorised

Published: 28 June 2017

28 June 2017

Hits: 8790

8790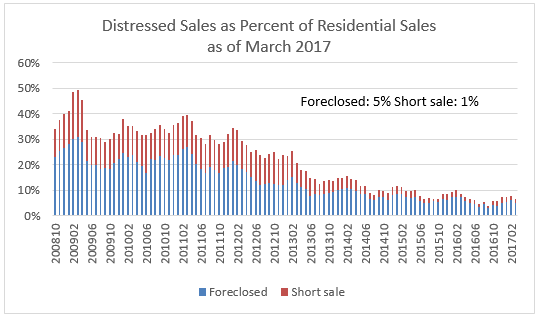 The real estate market continues to flourish!  The amount of foreclosures and short sales and decreased dramatically in the last ten years!
With home values and jobs on the rise, foreclosures, and short sales "distressed properties" has generally continued to decline. Distressed properties accounted for around 6% of the market March 2017 (compared to 8% at the same time last year), based on the March 2017 REALTORS® Confidence Index Survey Report. Foreclosed properties were only 5% of residential sales, while short sales were only 1% only of residential sales. Distressed sales accounted for about 1/3 of sales until 2012 when they began to fall.
With distressed property market shares falling, it also has an effect on other areas of the market.  For instance, the amount of investors scooping up homes has gone down by nearly 5% in the last few years!  This has also decreased the amount of "all cash" sales in the market!  Both of these things are good for the every day buyer when they don't have to compete with investors with cash.
Overall, the market is looking healthy for the foreseeable future!