You are here:  

Boise Area Home Prices at Bottom
Details

Category: Market Updates Market Updates

Published: 05 January 2011

05 January 2011

Hits: 17884

17884
Boise Idaho Real Estate Prices at Bottom
As this chart shows, we have tracked the average sold price of single-family homes in the greater Nampa-Boise area since November 2007.
When looking at Canyon County and Ada County real estate data, the biggest drop in the average home price was about April of 2009. Small drops in price each month have taken place since. We have noticed the most recent data shows slight upticks (we're talking a few dollars) were noticed in the average home prices for Boise ID real estate.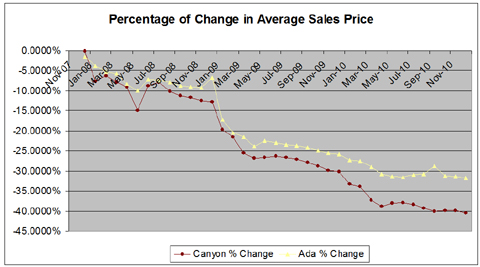 could this be the bottom of the price drops? It would be difficult to believe that prices could go much lower, but it appears things are looking up!
With interest rates on a slight increase, it's time to consider buying Idaho real estate. If you are thinking of buying a home, buy two! If you already have a home, buy another one! There will be a higher demand for rental properties in the near future, as many home owners have lost their home to foreclosure or short sale and cannot qualify for financing.
For a customized search for the home you're looking for, search Idaho Real Estate.